Event Information
Refund policy
Contact the organizer to request a refund.
Eventbrite's fee is nonrefundable.
Curso-Taller para Instructores en la Especialidad: Baile Aeróbico
About this event
SE CONVOCA A; Instructores, Monitores, Licenciados de educación física, Profesionales de la salud, Entrenadores y a todos los interesados.
CURSO TALLER ONLINE
Mayo 17, 19, 21, 24, 26 y 28. Junio 2, 4, 7, 9, 11 y 14 del 2021 11:00 a 14:00 horas Lunes, miércoles y viernes
36 Horas de instrucción teórica –práctica con Evaluación teórica-práctica
Módulo 1 - Introducción a la práctica Docente
Módulo 2 - Anatomía
Módulo 3 – Construcción de secuencias
Módulo 4 – Procesos Legales
Módulo 5 - Métodos, plan y Diseño de sección.
Módulo 6 – Entrenamiento.
Módulo 7 – Formatos de clase.
Módulo 8 – Ejercicios específicos.
Módulo 9 – Plan de entrenamiento.
PONENTE: Lic. Elizabeth Fernández Capacitadora titular
Asesores y adjuntos: Alfonso Israel Berenice Medina Dayanara Ramírez, Juan Pablo Arias Pedro Armas Sandra Frías David Mariscal
Constancia expedido por la Asociación Mexicana de Deportes y Actividades Físicas de Salón Dirigidas y Afines AC. en caso de aprobación.
REQUISITOS:
1.- Son sujetos de inscripción aquellas personas que completen el registro y cubran la cuota respectiva.
2.- No se permitirá la permanencia en las aulas virtuales a personas en calidad de oyentes que no estén debidamente registradas.
3.- Ropa cómoda, calzado cómodo, toalla, agua y material para tomar notas. 4.- Para tener derecho a la constancia y a evaluación, debe cubrir el mínimo del 80% de asistencia y aprobar con un mínimo de 8 la evaluación teórico/práctica.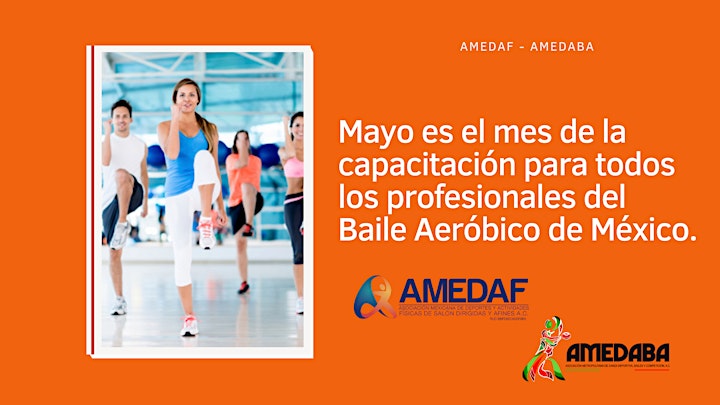 Location
Refund policy
Contact the organizer to request a refund.
Eventbrite's fee is nonrefundable.