As the DAMX 2022 AGM approaches, we encourage you to join us in our efforts by attending "Midterm Mojo @ the Midtown"
About this event
The 2022 midterms are only seven months from the Democrats Abroad Mexico AGM, we need to consistently organize and prepare to help defend the slim congressional majorities in the elections. As a group, we remain committed to mobilizing the over 200,000 United States Voters in Mexico to ensure that the respect, dignity, and integrity that President Biden has helped to bring to our nation's highest offices remains.
It's imperative that we provide a combined effort in order to maintain a Democrat majority in the midterms. It's going to require us to work together nationwide like never before, keeping our eyes set on one main goal: getting each and every US voter in Mexico to vote.
COVID requirements: While we are excited to be able to meet in person again, we are asking attendees to provide us with proof of vaccinations or provide us with valid medical reasons for not getting the vaccine. We are limiting the number of attendees to allow for physical distancing within the meeting rooms and requiring masks at indoor events. The safety and health of each of our attendees and the staff of the Hilton Midtown is Democrats Abroad Mexico's greatest priority. Your cooperation is greatly appreciated.
Important Note for US card users in Eventbrite:
Note after selecting the card type, there is a drop-down for "Issuer" with a list of Mexican banks, If you are using a US Visa card, choose Visa from this list. If you are using a US Master card choose Master from this list. For American Express choose American Express from the Issuer list.
Updated: It appears that there is an option for: "Issuer not on the list". It appears that selecting that is the preferred choice. Also, note that if you get an error, it seems that you have to start over completely. Reloading the payment page will not clear the error. Instead, go back to the first event page, reload it, reselect which tickets you want and then proceed to the payment page again.
These problems arise from the EventBrite software and are not under the control of Democrats Abroad. Our apologies for the inconvenience.
Are you unable to join us in Guadalajara but you want to donate towards a successful GOTV? You can participate via DIRECT DEPOSIT
Direct Bank Transfer: BBVA Bancomer, Account number 1592816234, CLABE 012680015928162342, John Garland Bradberry-- Please include your name and email in the notes when paying, to ensure your donation is acknowledged.
Reserve at the Hilton Midtown (Deadline to Reserve 4 March): 
Additional Instructions for booking online
At the top of the Hilton page, click on "Edit Stay"
Change the arrival and departure dates to coincide with your travel dates
To add or change the number of guests, click on "1 Room"
Scroll down to choose the type of room
Complete your name and address and add payment details.
OR
Call Hilton Midtown Reservations +52 33 41 60 01 40
Be sure to give them the Group Code "GRCDEM" for our Special Rate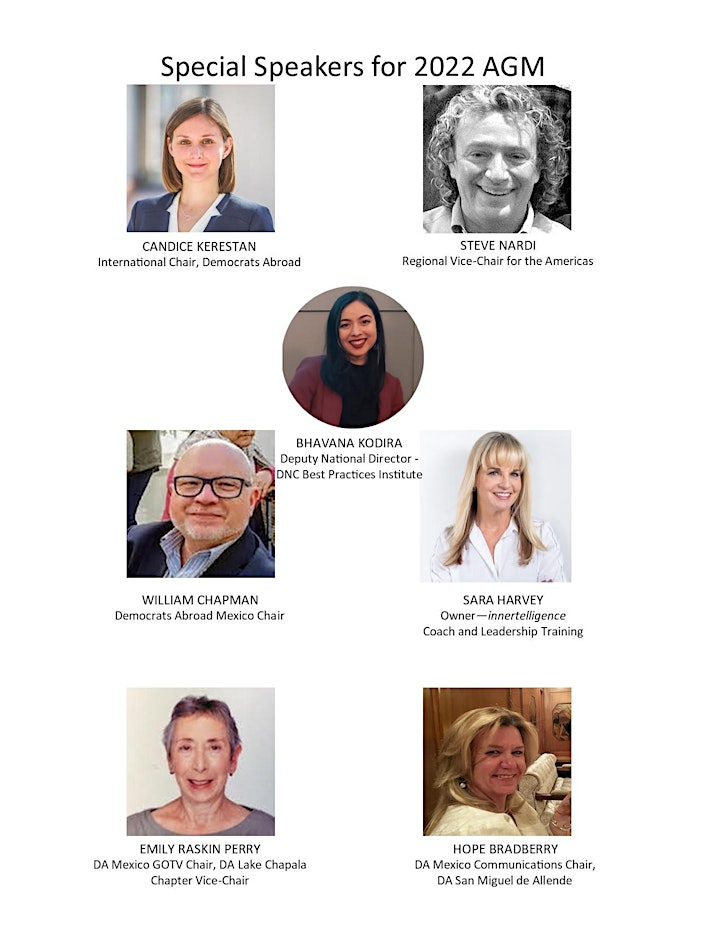 Organizer of Democrats Abroad Mexico Annual General Meeting 2022