Información sobre el evento
Come to commemorate with us the Day of the Dead! Art, food, activities, music and more...
Acerca de este evento
The Mexican Talent Networking in the Netherlands in collaboration with Vrij Paleis are pleased to invite you to this celebration!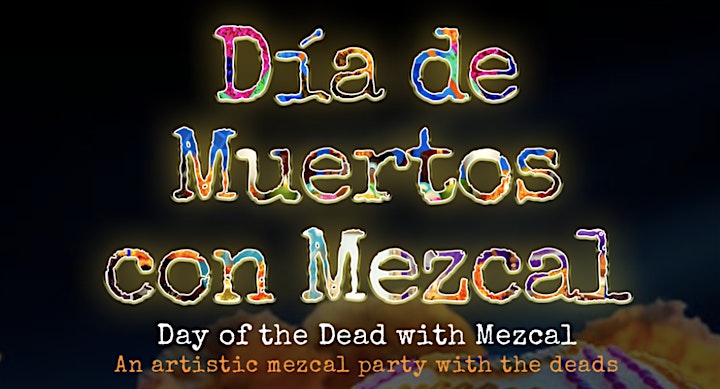 El Día de Muertos, a Mexican tradition, aims to bring the memories of our dead back into life through works of art, installations, poems, performances, and contemporary rituals. A cultural and festive event for all ages and nationalities.
Death and rituals have always been subjects in the visual arts. Just as rituals shape transformation processes, fine arts, visual arts, conceptual art, are carriers of symbolic values that can help people experience the unseeable.
Works of art from Daniel Rakish, Alejandra Nettel, Pablo Ponce, Juan Tajes, Willem van Hest, Ron Blom will be exhibited.
Throughout the event you can appreciate a traditional altar for the dead made by Damaris Bolio (Mexican artist and activist).
You are welcome to bring a photo of a beloved one to put in the altar.
Food is an element that cannot be missed in a Mexican celebration, so be prepare to try the 'tamales' of las Comalitas, las 'empanadas' de Socorro, and of course, our main guest will be present "The Mezcal", the most symbolic Mexican drink in the world will bring you closer to other souls (present or elsewhere) by ABCMezcales.
Together the Day of the Dead and the Mezcal made:
"El Día de Muertos con Mezcal"
Come dressed as Catrina or Catrín, bring your kids to dress up as well.
Last but not least, an incredible opportunity to know more about the "XOLO", the Mexican dog "Xoloitzcuintle" that is linked with the Mexican most ancestral traditions and, especially with the day of the dead.
Our program:
(times & artists may vary)
14:00 - DOORS OPEN
14:00 - 14:30 Duo María Calvo & Martijn Nieuwenhuijzen
Make-up for kids & adults
14:30 - 14:45 Opening words from Jane van der Plas, President of the Mexican Talent Networking in the Netherlands
14:45 - 15:00 What the H… is an altar!
15:00 to 15:45 Parade
Let's go to the Dam Square to walk around as Catrina or Catrín, get your imagination rolled free. If you are too shy for it, same deal, walk along with us!
15:45 to 16:00 Music
16:00 to 16:15 Performance
16:15 to 17:00 Piñata time!!
17:00 to 17:30 Trio Musica Ribelle by Sebastiano Gentile (voice), Gaetano Fiorin (bass) and Stefano Bocconi (guitar)
17:30 to 17:45 Poetry by Juan Tajes
17:45 to 18:15 Alberto Zárraga - Trobador
18:15 to 18:25 Sandy Rivas, La Regia de México
18:25 to 19:00 Dinner with music
19:00 to 22:00 PARTY with La Banda Fantástica & DJ Rengo Estar
Are we missing you?
If you think that you must be in this singular event because you are an incredible artist and have work prepared or willing to prepare with the theme or think that we cannot miss your incredible food, we want to hear from you!
Send an e-mail to: alejandra.nettel@redtalentos.nl
The Day of the Dead with Mezcal is alive thanks to:
Damaris Bolio, Sebastiano Gentile, Gaetano Fiorin, Stefano Bocconi, María Eugenia Calvo, Martijn Nieuwenhuijzen, Alberto Zárraga, Sandy Rivas, Juan Tajes, César Merlín, Alejandra Nettel, Pablo Ponce, Daniel Rakish, Xolo, Willem van Hest, Ron Blom.
The Mexican Talent Networking in the Netherlands thanks to the Vrij Paleis and especially Daniel Rakish for opening your doors to us.
Thanks to the sponsors for your kind contribution:
Alejandra Nettel Communications
Laberinto (Art & design)
ABC Mezcales
Verónica Mier y Terán Fotografie
Las Comalitas
Piñatas Cabezonas
Amar a México
Avolujan
Yola Mexican Bakery
Alberto Zárraga
General concept and event management:
Alejandra Nettel, coordinator of Creative Industries for the Mexican Talent Networking in the Netherlands.
COVID measures:
We are adhering to the RIVM rules for events. Please note you we will control the following:
• We will ask your Coronacheck.nl QR at the entrance (with your ID) or
• Show your negative test not older than 48hrs at the entrance. You can get tested via www.testenvoortoegang.nl or
• A proof of having had Corona from maximum 6 months old.
Note: We can decline your entrance if you do not have one of the above-mentioned requirements. No refunds are possible.
Mexican Talent Network in the Netherlands
Organizador de Dia de Muertos con Mezcal
The Mexican Talent Network in The Netherlands (RdT-NL) is a Non-profit organization registered in The Netherlands (KVK 61068314). Recognized by the Institute of Mexicans Abroad, the Global Network (RGMX) is a Civil Society movement that has 60+ chapters in more than 30 countries around the world.
It is a space to learn, collaborate and exchange knowledge, ideas and projects with Mexican professionals, friends of Mexico or Mexican residents in the Netherlands.
We organize different activities, meetings, social gatherings and conferences to achieve the general objectives of our network and also to connect our members with productive projects in Mexico and The Netherlands.
For more information about the Global Network visit (in Spanish): www.redtalentos.gob.mx
For more information about The Netherlands chapter (in Spanish & English): www.redtalentos.nl