MASQUERADE (ROCK & DINE 2021)
About this event
New Year's Eve dinner
Cena de Año Nuevo
Join us to welcome 2021 in an experience where music and gastronomy come together in a GRAND style at Grand Hyatt Playa del Carmen.
Únase a nosotros para darle la bienvenida al 2021 en una experiencia donde la música y la gastronomía se unen con estilo GRAND en Grand Hyatt Playa del Carmen.
Live Music . Food . Entertainment . Fireworks
Música en vivo . Comida . Entretenimiento . Fuegos artificiales
Grand Masquerade Contest, where you will be invited to participate and to have the opportunity to win a certificate for one night in our Presidential Suite.
Grand Concurso de Máscaras , donde serán invitados a participar y tener la oportunidad de ganar un certificado de una noche en nuestra Suite Presidencial.
PRE-SALE PRICE FOR A LIMITED TIME
PRECIO DE PREVENTA POR TIEMPO LIMITADO
Dress code: White Attire
Open bar until 11:00 pm.
Included a Sparkling Wine glass for the toast and non-alcoholic beverages
Código de vestimenta: Vestimenta blanca
Barra libre hasta las 11:00 pm
Incluye una copa de vino espumoso para el brindis y bebidas no alcohólicas.
Taxes and Services included.
$1800.00 MXN corkage fee per bottle.
Children from 6 to 12 - pay 50%.
Prices depend on availability and can change without notice.
Strict hygiene and social distancing measures implemented.
Impuestos y servicios incluidos.
Tarifa de descorche de $1800.00 MXN por botella.
Niños de 6 a 12 años pagan el 50%.
Los precios dependen de la disponibilidad y pueden cambiar sin previo aviso.
Implementadas estrictas medidas de higiene y distanciamiento social.
Para más detalles Festive 2020
Grand Hyatt News + Events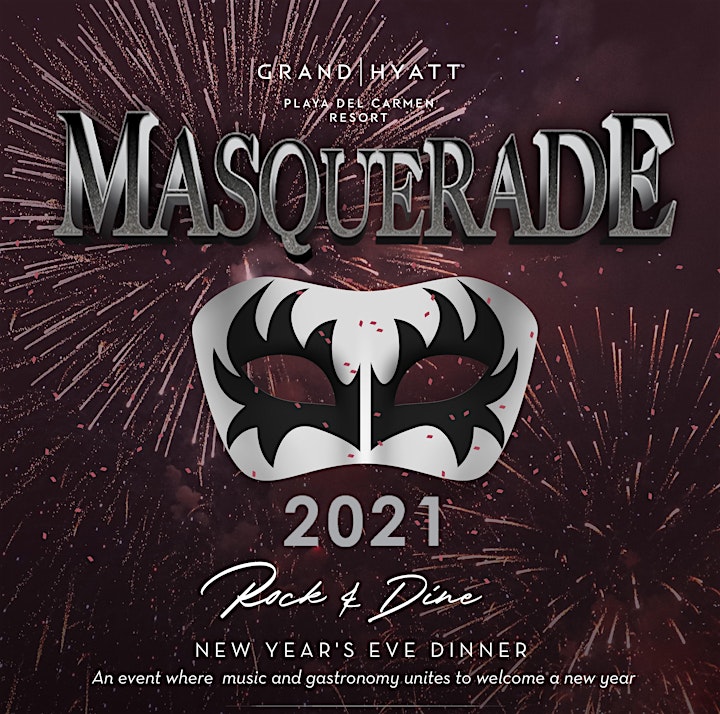 Organizer of GRAND HYATT PLAYA DEL CARMEN ROCK AND DINE NYE MASQUERADE 2021