Event Information
Location
Hilton Guadalajara
2933 Ave. De La Rosas
Guadalajara, JAL 44530
Mexico
InterPride's Annual General Meeting & World Conference hosted by Guadalajara Pride!
About this event
(EN) For the first time in InterPride's history, the Annual General Meeting & World Conference (GM&WC) will be hosted in a Latin American country! InterPride's member organization, Guadalajara Pride, is the proud host of this year's annual event. We are proud to welcome you and make this conference a milestone in the history of InterPride, with your help, this will be possible. Mexico is ready to welcome you with open arms!
FOR MORE INFORMATION: CLICK HERE
NOTES: Scholarship information is coming soon! Please email Scholarship Committee at scholarship.chairs@interpride.org to be notified when scholarship applications are available.
Given that the current pandemic situation is unpredictable, we recommend booking flexible flights.
(ES) Por primera vez en la historia de InterPride, la Asamblea General Anual y Conferencia Mundial (GM&WC) se celebrará en un país latinoamericano. La organización miembro de InterPride, Guadalajara Pride, es la orgullosa anfitriona del evento anual de este año. Estamos orgullosos de darles la bienvenida y hacer de esta conferencia un hito en la historia de InterPride, con su ayuda, esto será posible. ¡México está listo para recibirlos con los brazos abiertos!
PARA MÁS INFORMACIÓN: HAZ CLIC AQUÍ
NOTAS: La información sobre las becas está por llegar. Por favor, envíe un correo electrónico al Comité de Becas en scholarship.chairs@interpride.org para ser notificado cuando las solicitudes de becas estén disponibles.
Dado que la situación actual de la pandemia es impredecible, recomendamos reservar vuelos flexibles.
(FR) Pour la première fois dans l'histoire d'InterPride, l'Assemblée générale annuelle et la Conférence mondiale (AG&CM) auront lieu dans un pays d'Amérique latine ! L'organisation membre d'InterPride, Guadalajara Pride, est l'hôte fier de l'événement annuel de cette année. Nous sommes fiers de vous accueillir et de faire de cette conférence un jalon dans l'histoire d'InterPride, avec votre aide, cela sera possible. Le Mexique est prêt à vous accueillir à bras ouverts !
POUR PLUS D'INFORMATIONS : CLIQUEZ ICI
NOTES : Des informations sur les bourses d'études seront bientôt disponibles ! Veuillez envoyer un courriel au Comité des bourses d'études à scholarship.chairs@interpride.org pour être informé lorsque les demandes de bourses d'études seront disponibles.
La situation actuelle de la pandémie étant imprévisible, nous vous recommandons de réserver des vols flexibles.
(PR) Pela primeira vez na história da InterPride, a Reunião Geral Anual & Conferência Mundial (GM&WC) será acolhida num país da América Latina! A organização membro da InterPride, Guadalajara Pride, é a orgulhosa anfitriã do evento anual deste ano. Estamos orgulhosos de o receber e de fazer desta conferência um marco na história da InterPride, com a sua ajuda, isto será possível. O México está pronto para lhe dar as boas-vindas de braços abertos!
PARA MAIS INFORMAÇÕES: CLIQUE AQUI
NOTAS: A informação sobre bolsas de estudo está a chegar em breve! Por favor, envie um e-mail para o Comité de Bolsas de Estudo em scholarship.chairs@interpride.org para ser notificado quando as candidaturas a bolsas de estudo estiverem disponíveis.
Dado que a actual situação pandémica é imprevisível, recomendamos a reserva de voos flexíveis.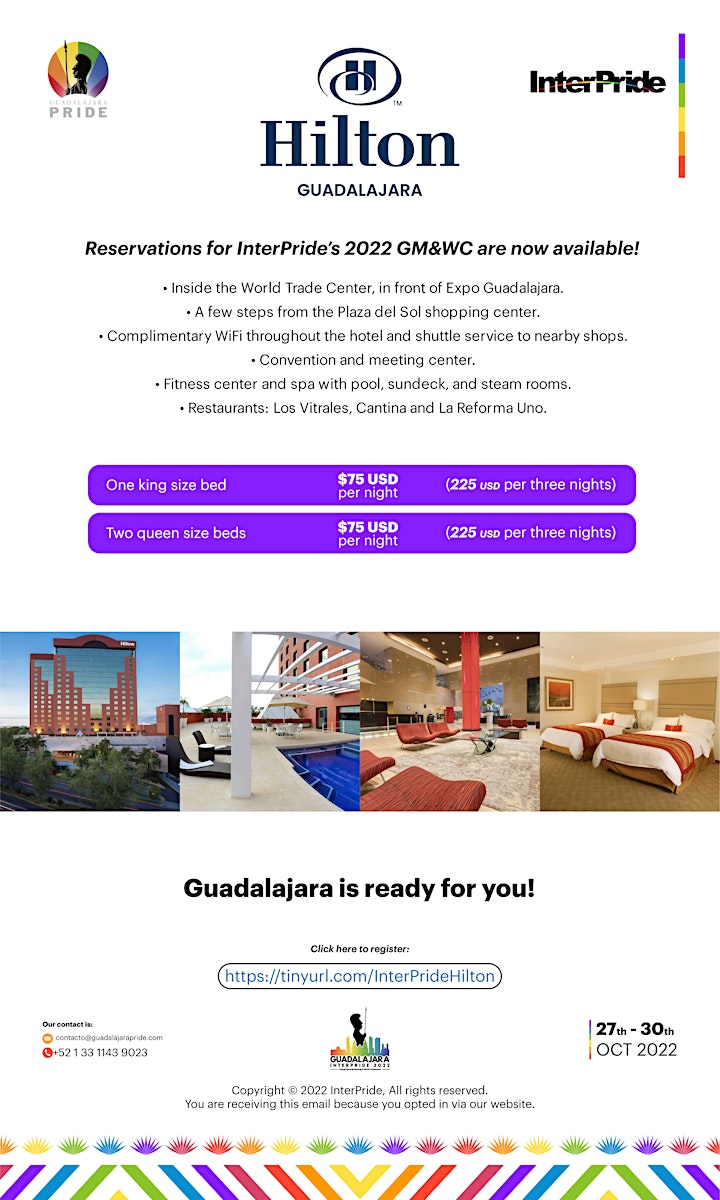 Book your flight today with a discount code from AeroMexico!
Use discount code: IT2MXRC00898C
¡Reserve su vuelo hoy con un código de descuento de AeroMexico!
Utilice el código de descuento: IT2MXRC00898C
Réservez votre vol aujourd'hui avec un code de réduction d'AeroMexico !
Utilisez le code de réduction : IT2MXRC00898C
Reserve hoje o seu voo com um código de desconto da AeroMexico!
Use o código de desconto: IT2MXRC00898C
Are you interested in being a sponsor? We want to hear from you!
¿Está interesado en ser patrocinador? ¡Queremos saber de ti!
Haga clic aquí para obtener más información.
Está interessado em ser um patrocinador? Queremos ouvir de si!
Êtes-vous intéressé à devenir un sponsor ? Nous voulons vous entendre !

Date and time
Location
Hilton Guadalajara
2933 Ave. De La Rosas
Guadalajara, JAL 44530
Mexico
Refund policy