Multiple Dates
Juke Joint Wednesdays! Live Performances + Games + Dance + Shisha + Vibes
Juke Joint a DJ curated & MC hosted music series inspired by an iconic artist. Games, live performances, dancing & vibes all night long!
About this event
Juke Joint Wednesday! DJ + MC + Comedy + Game Night + Live Performances + Shisha + Market + Vibras + You!
Tonight we'll take you on a Bad Girl Riri journey straight out of Jamaica inspired by the legendary Queen Rihanna!
Robyn Rihanna Fenty , is a Barbadian singer, actress, fashion designer, and businesswoman. Born in Saint Michael and raised in Bridgetown, Barbados, Rihanna was discovered by American record producer Evan Rogers who invited her to the United States to record demo tapes. After signing with Def Jam in 2005, she soon gained recognition with the release of her first two studio albums, Music of the Sun (2005) and A Girl like Me (2006), both of which were influenced by Caribbean music and peaked within the top ten of the US Billboard 200 chart. In 2017 she founded the fashion house Fenty as its artistic director, and became the first black woman to head a luxury brand for LVMH (Moët Hennessy Louis Vuitton) group.
Rihanna's third album, Good Girl Gone Bad (2007), incorporated elements of dance-pop and established her status as a sex symbol in the music industry. The chart-topping single "Umbrella" earned Rihanna her first Grammy Award and catapulted her to global stardom. She continued to mix pop, dance, and R&B genres on her next studio albums, Rated R (2009), Loud (2010), Talk That Talk (2011), and Unapologetic (2012), which became her first Billboard 200 number one.
The albums spawned a string of chart-topping singles, including "Rude Boy", "Only Girl (In the World)", "What's My Name?", "S&M", "We Found Love", "Diamonds", and "Stay". Her eighth album, Anti (2016), showcased a new creative control following her departure from Def Jam. It became her second US number-one album and featured the chart-topping single "Work". Rihanna has collaborations with artists such as rappers Drake, Eminem, Jay-Z, and Kanye West and singers Adam Levine, Paul McCartney, Ne-Yo, and Shakira.
With sales of over 250 million records worldwide, Rihanna is one of the best-selling music artists of all time. She has earned 14 number-ones and 31 top-ten singles in the US and 30 top-ten entries in the UK. Her accolades include nine Grammy Awards, 13 American Music Awards, 12 Billboard Music Awards, and six Guinness World Records. Forbes ranked her among the top ten highest-paid celebrities in 2012 and 2014; as of 2019, she is the wealthiest female musician, with an estimated net worth of $600 million. Time magazine named her as one of the 100 most influential people in the world in 2012 and 2018.
Aside from music, Rihanna is known for her involvement in humanitarian causes, entrepreneurial ventures, and the fashion industry. She is the founder of the nonprofit organisation Clara Lionel Foundation, cosmetics brand Fenty Beauty, and fashion house Fenty under LVMH. Rihanna has also ventured into acting, appearing in major roles in Battleship (2012), Valerian and the City of a Thousand Planets (2017), and Ocean's 8 (2018). She was appointed as an ambassador of education, tourism, and investment by the Government of Barbados in 2018.
Tonight we celebrate the music & legacy of Rihanna with one of the top Women DJ's in Mexico!!!
Special Guest DJ: MISSIL 🇲🇽 @Missil LIVE! at 7:30pm 🎤
Missil is an urban, multi-faceted artist, originally from Paraguay, growing up on the border with Brazil and Argentina, who is a strong influence in her artistic roots. Currently based in Mexico, it encompasses music, tattoos, fashion and art. He positions himself with strong steps in the Latin rhythms, Reggaeton, Funk, Trap, being a DJ and singer. With the professional style & she has played in large and massive events being the opening act for J. Balvin, in Paraguay and this year he was performing at El EDC Mexico, with a show where he left the people on high! With his music he has collaborated with important international producers of the Neoperreo genre.
Missil promotes liberation and union of people through music. Welcome to Juke Joint Missil!
Juke Joint returns this Wednesday 🔥 Featuring @ 🎶 🥂 Come EARLY to Vibe & Connect for our signature Happy Hour & Game Night In PDC🌴 From 6pm to 7pm 🌅 2x1 on all Cocktails & Beer 🍻 And delicious bites from the mouthwatering menu all night 😋
Come through & chill for all the Shenanigans 🤣 Comedy Night, Poetry & Playa People we all love + music inspired by 👑 Rihanna till 11pm 🔥 Special Guest DJ MISSIL @Missil straight outta CDMX🇲🇽 on the 1's and 2's and Salim El Bey @poeticgymnast 🌎 on the 🎤
Located at Quinta De Piedra located in the heart of the coolest vibey part of town directly 5th Avenue & Calle 34.
We'll showcasing a few of Playa's most talented artists, comedians & vendors at Juke Joint!
So If you have true artistry in comedy, poetry & spoken word and want to get on the mic to show & prove get on the mic & bless us starting at 8pm!
In The Market ..
Brian Powell will have his renowned KROWN Sea Moss & other health products for sale in the market with samples & introductions on how to incorporate it into your healthy journey in life. IG @theblkpacker
Miss April Lynne of @sprinkledazzlecollective will have her beautifully unique breathtaking artistic collection of Goddess crystals, headwraps, waist beads, jewelry and more!
KIWI BEAUTY
Creations By An Empath
Kiwi Beauty handmade earrings are crafted with vibrant hues, a colourful personality. Most earrings are named after Hip Hop or R&B songs. Kiwi Beauty is uniquely handmade by earrings goddess Kiwi. Kiwi is an Atlanta native/BX born creator with an online blog and platform at KiwiTheBeauty.com. Kiwi Beauty is an extension of her lifestyle online brand. Earrings are very unique which ranges from clay earrings, resin earrings and even earrings made of fruit actual fruit. Pieces also vibrate at the highest frequency made from affirmation and healing energy from a loving Aquariuan empath! All earrings are super light-weight comfortable, and safe for sensitive ears.Very unique designs created for bold and vibrant soul. All earrings are handmade and created in Atlanta, GA. Kiwi Beauty is a proud black owned small business. Etsy.com/shop/KiwiBeautyStore. Follower the designer at @kiwithebeauty. Follow the Kiwi Beauty IG page at @kiwibeautystore
@FlyyGirlFly is an organization that seeks to empower girls from all over the world by connecting them with the tools, mentorship, and training they need to Flyy confidently into their dreams! We are currently fundraising and collecting school supplies for children here in Playa and also in Detroit, Michigan! Every purchase at the FlyyGirl shop goes directly back to the organizations goals of giving back to the community! Check us out on IG: www.Instagram.com/FlyyGirlFly
@Obatalia of "Witchy Bitchez" presents an enchanting collection of herbal infused magnetism oils, scrubs, potions, candles and other life enhancing tools for spiritual illumination.
ABOB - Always Bet On Black apparel inspired by the ever-present global display of black excellence @abob365
Come out to eat, drink, relax, connect & safely build in the vibe over your favorite games with your favorite Playa People at Quinta de Piedra!
One of Playa Del Carmen's sexiest, secluded outdoor culinary gems with amazing food & the tastiest Cadillac Margaritas & signature Piña Coladas and THE BEST Happy Hour in the city & premium Shisha all night long!
Get your game night on with Giant Jenga, Giant Connect Four, Black Card Revoked, Taboo, Scrabble, Spades, Corn Hole Bean Bag Toss, UNO, Connect Four, Monopoly, Dominoes, Sorry, Checkers, Battleship, Trouble, Operation, Tick- Tack-Toe, Cards Against Humanity, Chess, Spoons, Piccalo and more!
Come through EARLY for HAPPY HOUR 6pm to 7pm and chill with games, comedy, delicious bites, cocktails, shisha, live music, dancing & connection over global musical diaspora vibes!
The perfect place to spend a Wednesday evening Juke Joint Wednesday Quinta De Piedra! Come for the vibes & stay for the culture!
It's going to be a movie 🎥 The best night For the Culture From the Culture in Mexico 🇲🇽 Be In The Vibe 🎵 See you there 📍 Quinta De Piedra 📍PDC 🇲🇽 6PM-11PM 📸 follow @jukejointpdc
Juke Joint Wednesdays! Comedy + Game Night + Live Music + Amigos + Shisha + Vibras + Market + You!
FREE WITH RSVP --- SPACE IS LIMITED --- COME EARLY --- THANK YOU --- SEE YOU THERE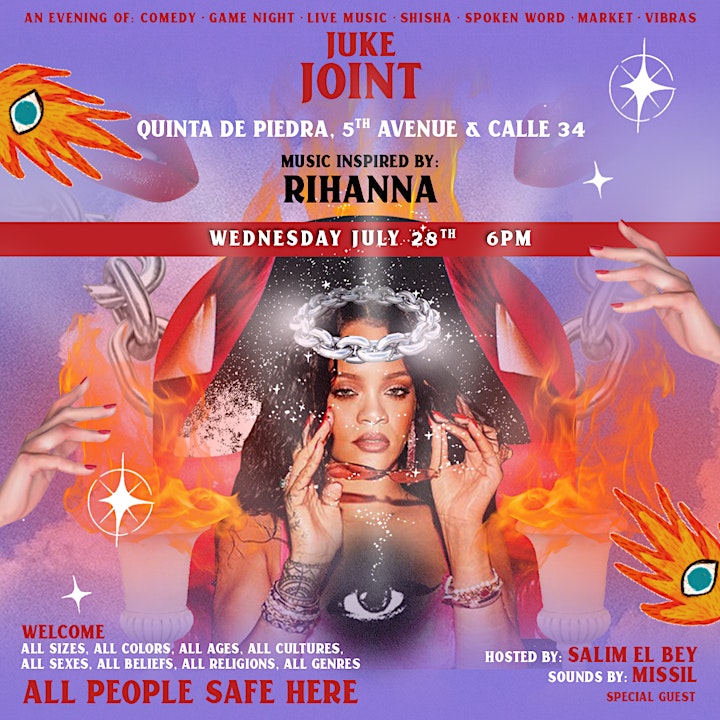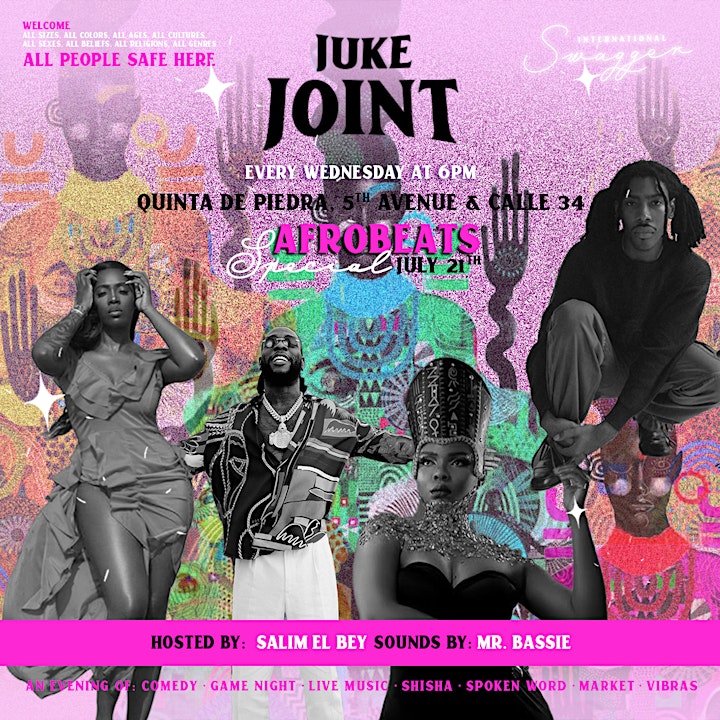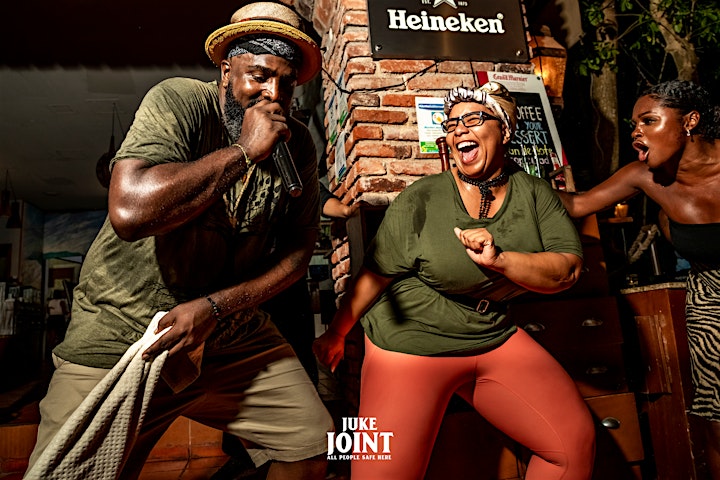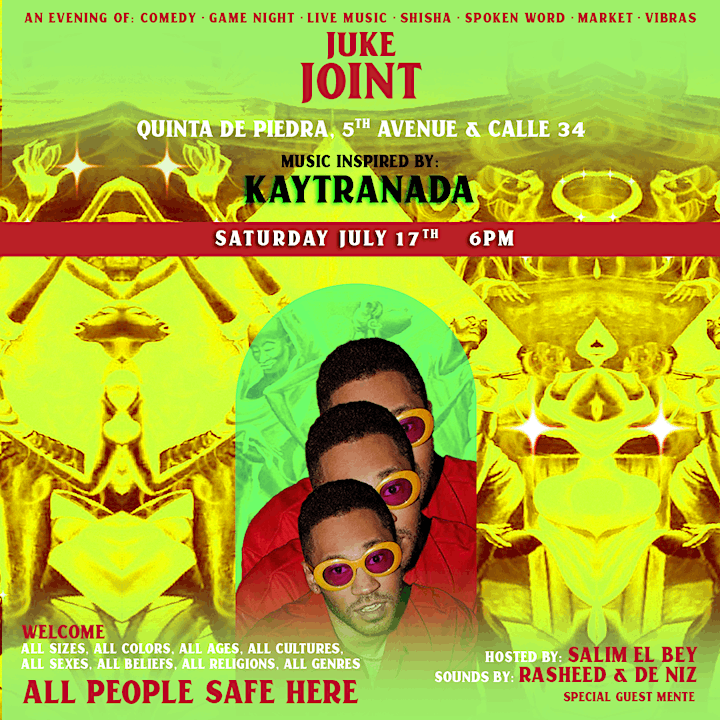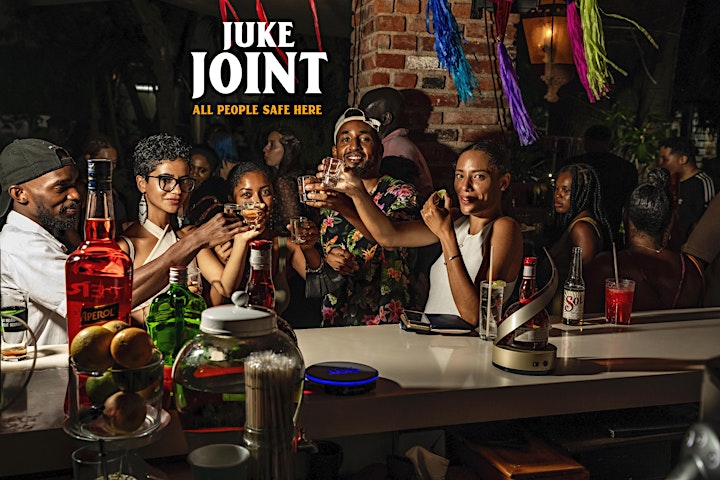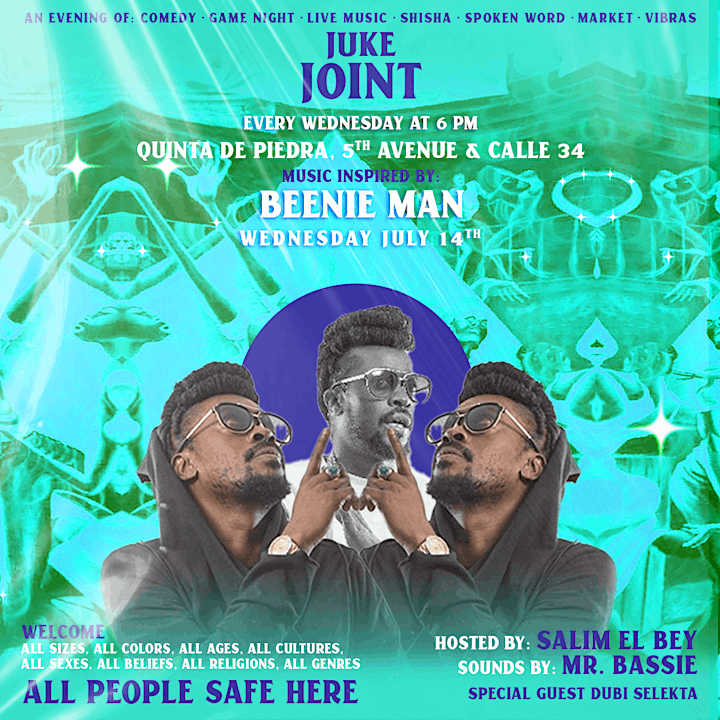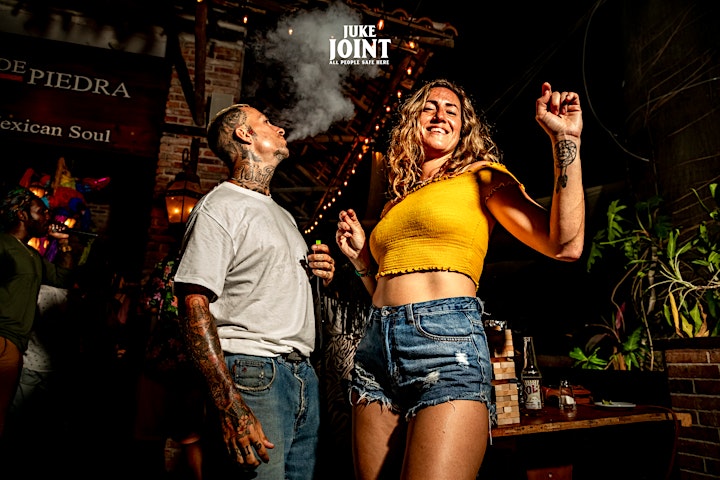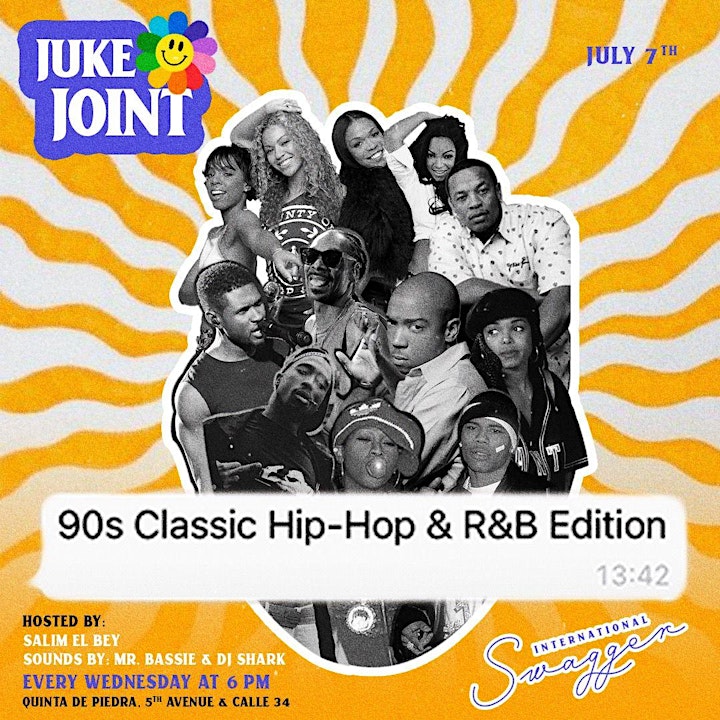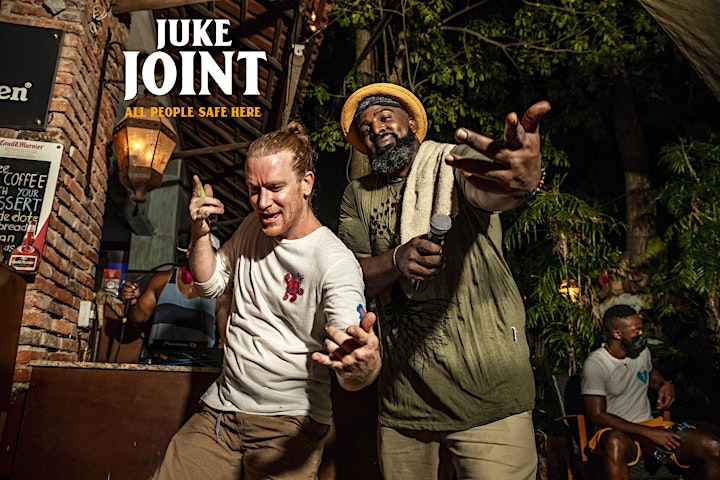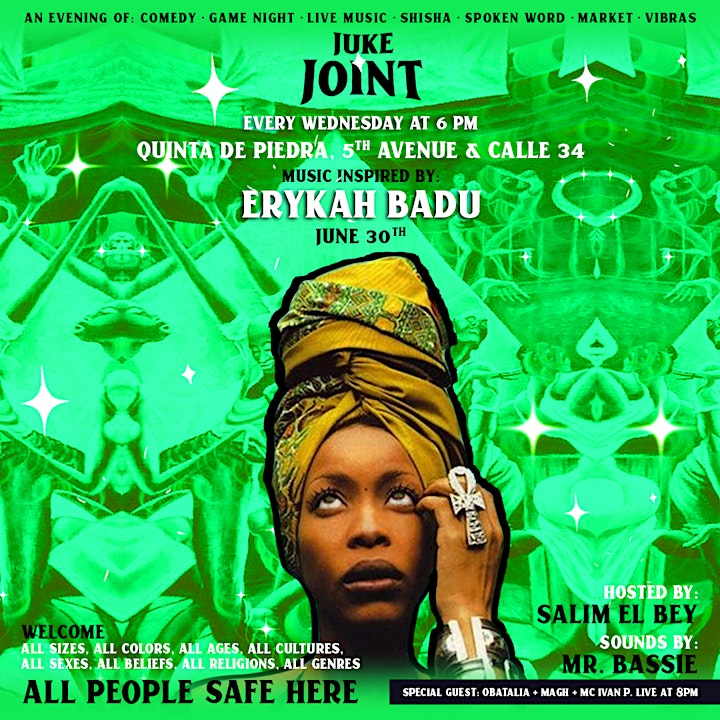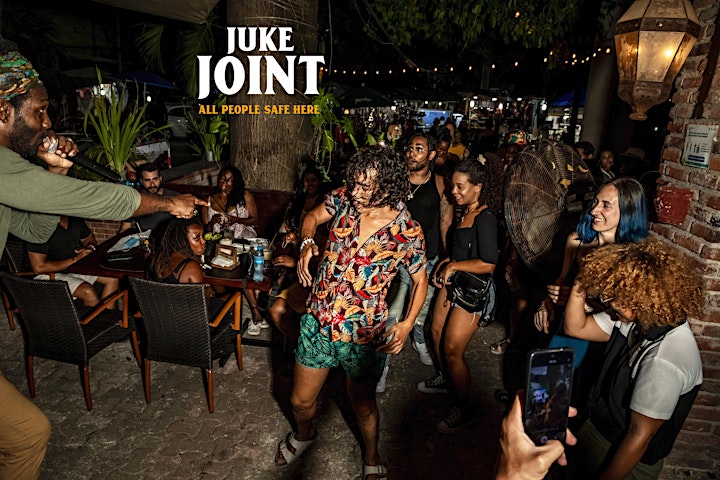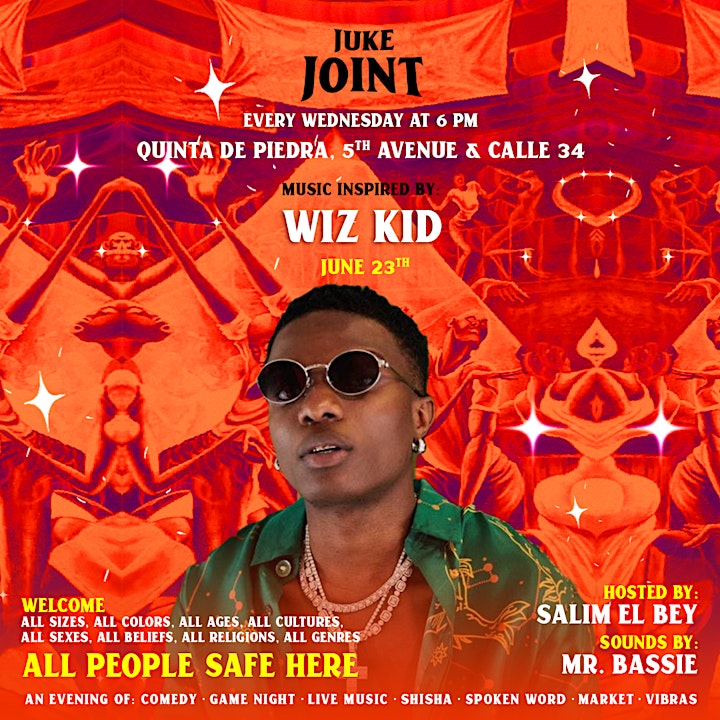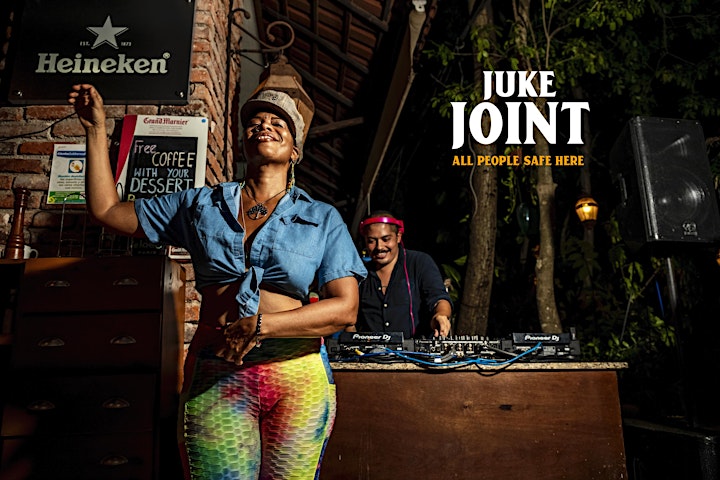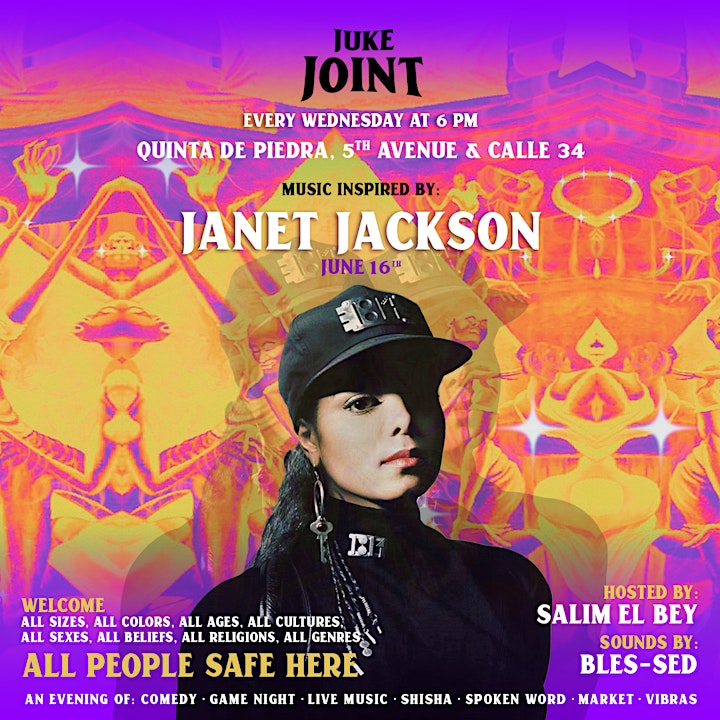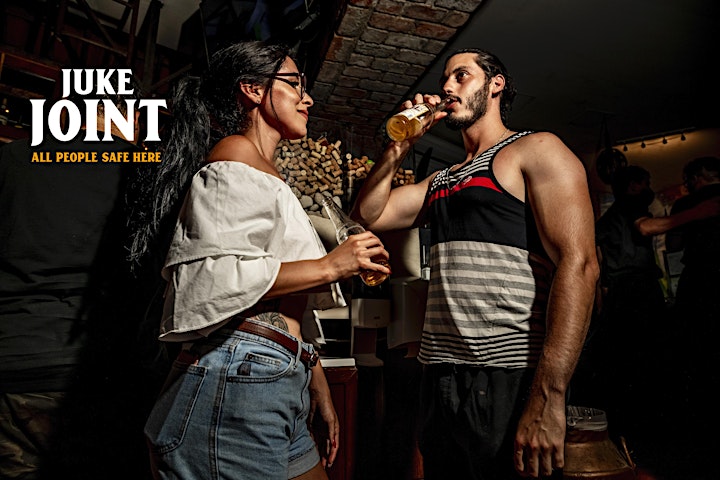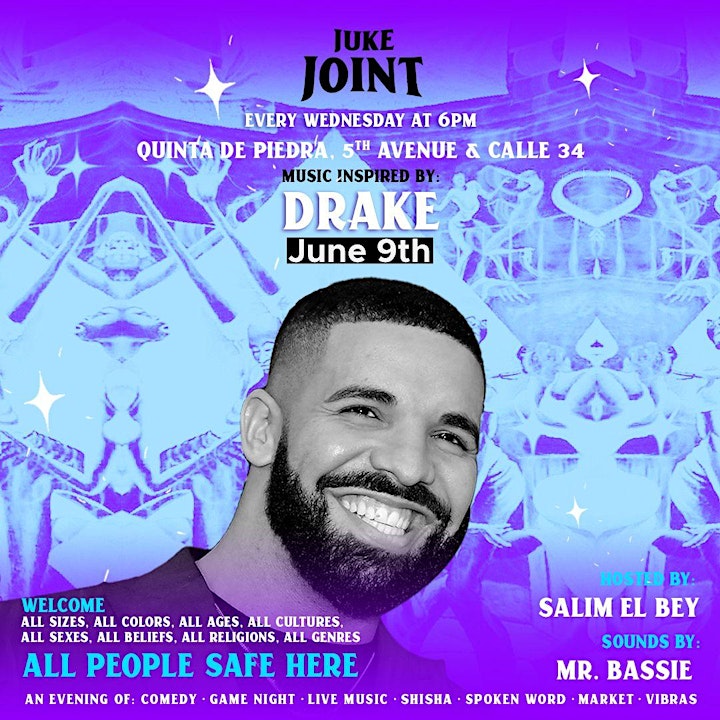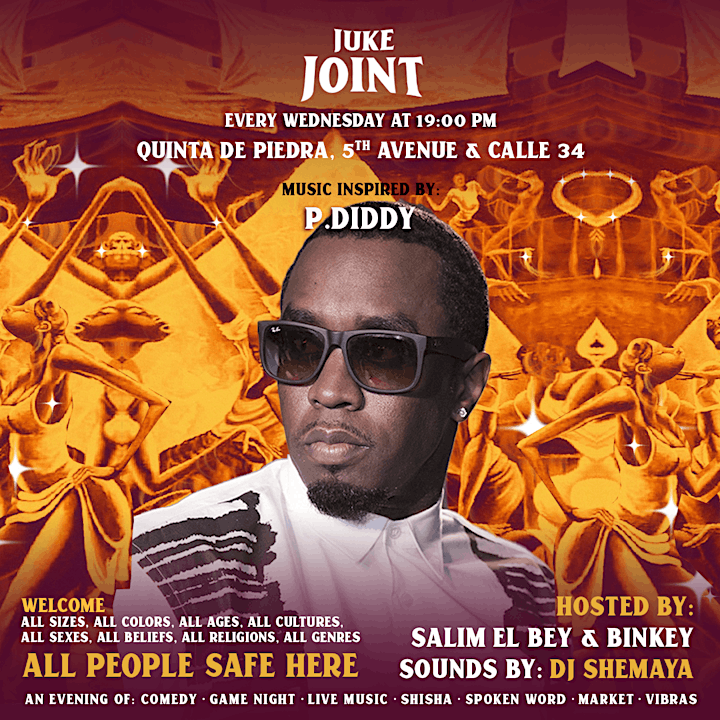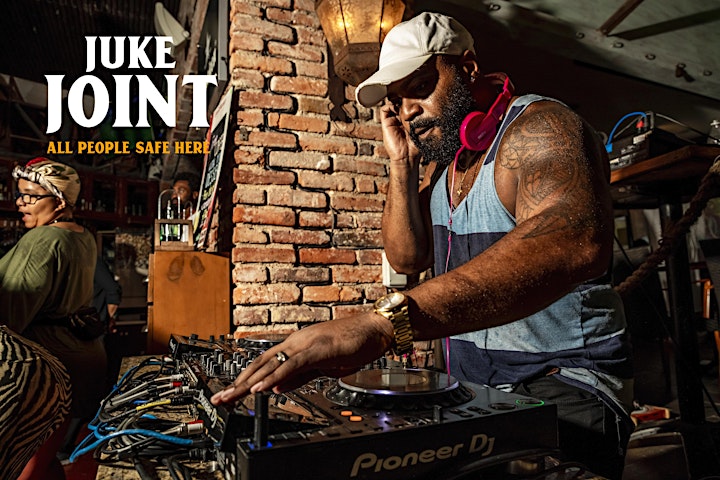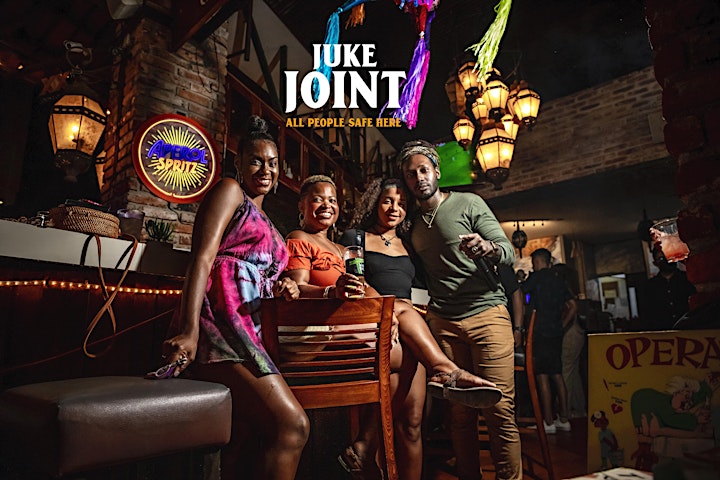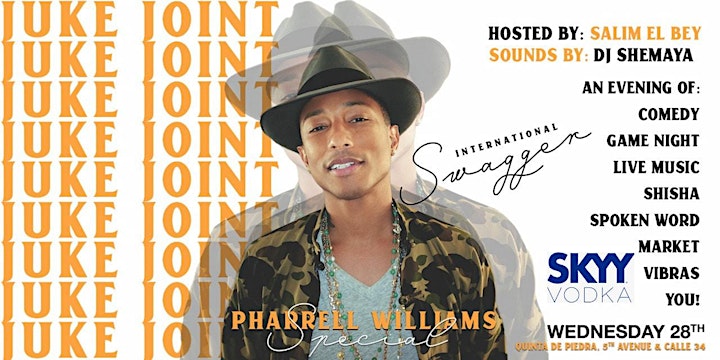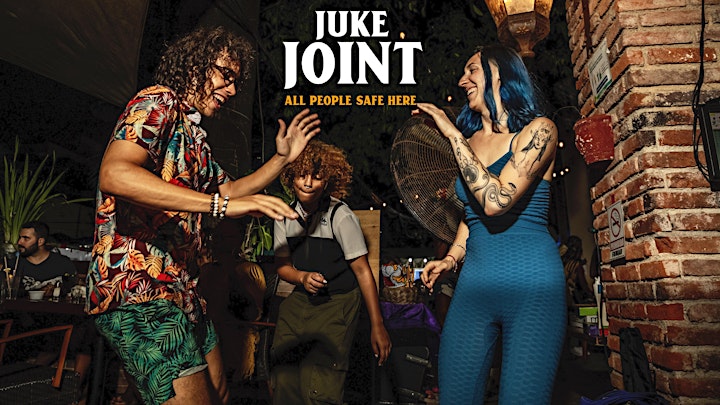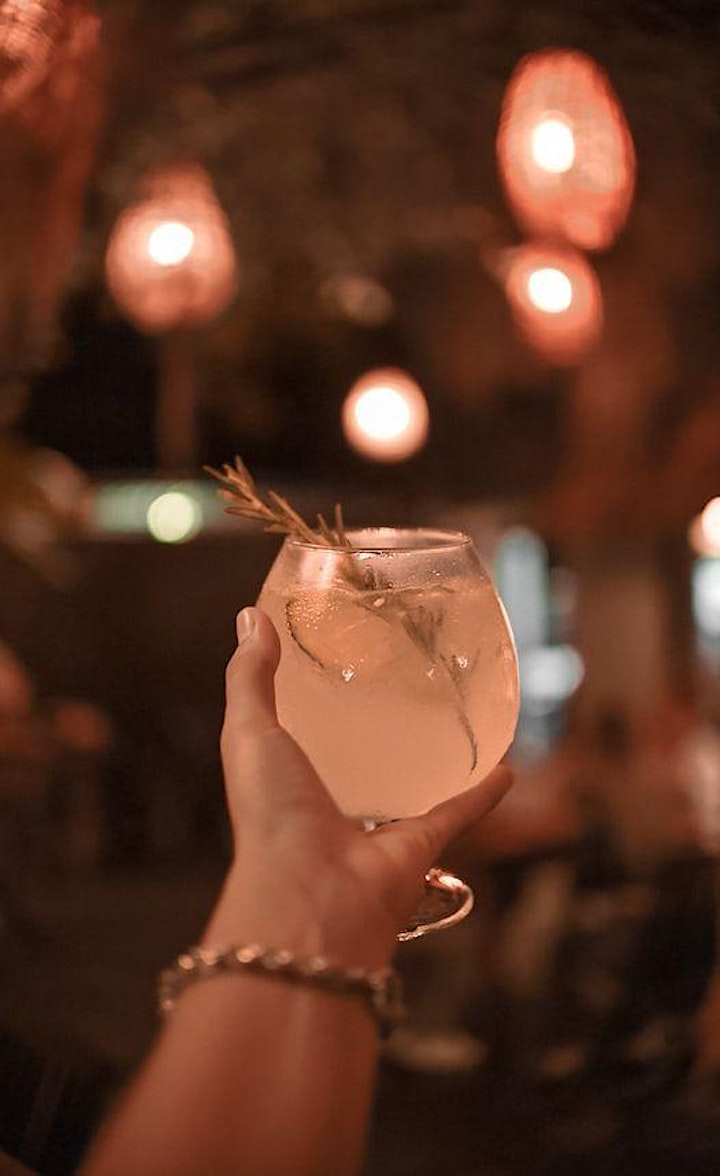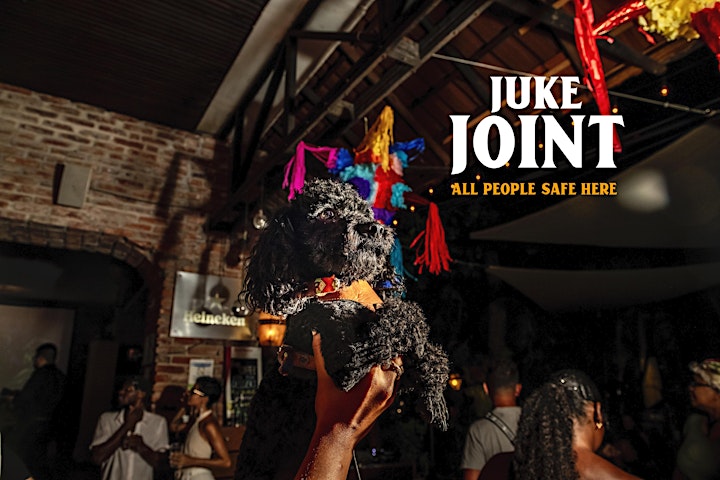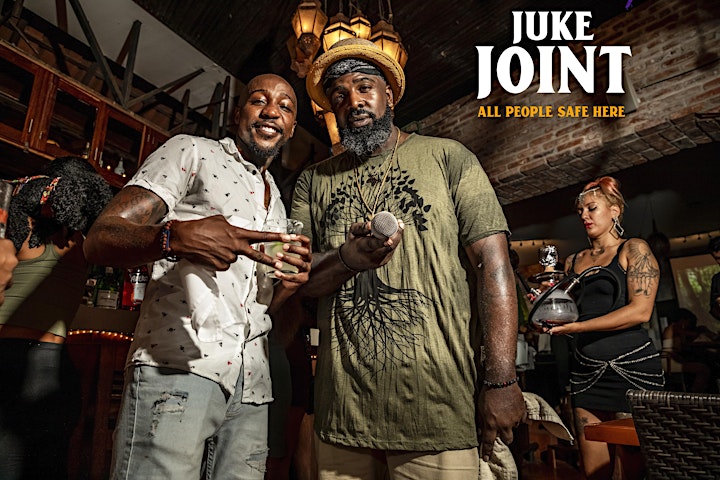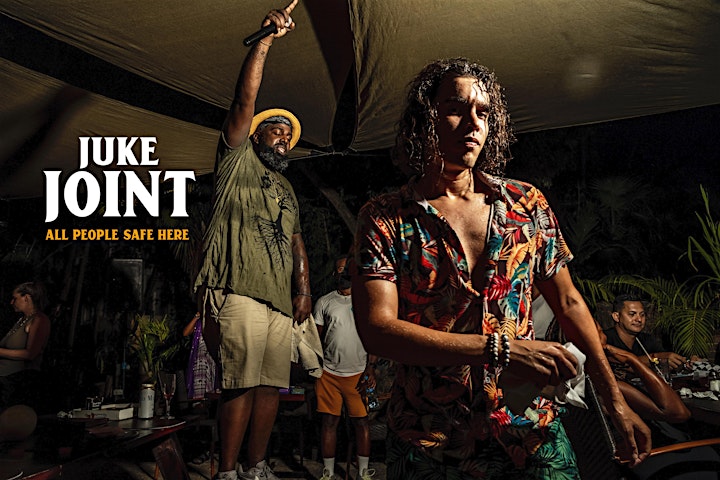 Organizer of Juke Joint Wednesdays! Live Performances + Games + Dance + Shisha + Vibes