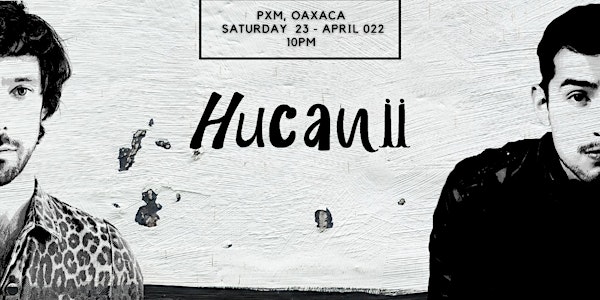 LOS CABRA ( STIL VOR TALENT ) - ISMAHEL ( AKBAL ) - THE NOTE V ( LUMP )
Información sobre el evento
Ubicación
HUCANII
Chiapas , La Punta Zicatela
Puerto Escondido, OAX 70934
Mexico
Política de reembolso
Contacta con el organizador para solicitar un reembolso.
La tarifa de Eventbrite no es reembolsable.
And for our next event we have a nice great line up with original and fresh music for us !!! LOS CABRA / ISMAEHL / THE NOTE V
Acerca de este evento
LOS CABRA ( BIO )
When reviewing Los Cabra (Christ Burstein) musical merits at this point in time, it shows that most of it took shape off the beaten path. Be it the conditions that sparked his DJ- career. Be it his approach of DJing itself or be it his artistic progression, manifested in his productions.
Over the last years, Christ landed a string of much-noticed releases on different labels, be it on Rural, his Berlin-based label-mainstay or be it on imprints like Stil Vor Talent, Get Physical, Sincopat, Bar 25, Gruuv, Ritter Butzke, Obsolet, etc.
The Berlin-based live act, Dj & producer combines melancholic, organic soundscapes and a distinct percussive touch in his unique perception.
The result is an intimate listening experience, which hovers between melodic introspection and his Latin roots.
WEBSITE: www.loscabra.com
SPOTIFY: spoti.fi/2JCGW82
BEATPORT: beatport.com/artist/los-cabra/627698
SOUNDCLOUD: @los-cabra
FACEBOOK: facebook.com/loscabramusic
INSTAGRAM: instagram.com/loscabramusic
ISMAEHL AKA REPLICANTH ( BIO )
REPLICANTH
Afro House | Organic House | Progressive House
[Akbal Music / Tenampa Recordings / Go Deeva Records / Lump Records / Dreamig Awake Records / We Are Here Music / SUDAM Recordings / Pulse Wave Music]
Ligas Redes Sociales & Streaming:
https://linktr.ee/replicanth
Bio corta (Flyers, Promo, publicaciones en redes sociales) :
Replicanth proyecto distinguido dentro de los géneros Progressive House y Organic House , su calidad, así como su selección musical lo ha llevado a tocar en diversos clubes y festivales alrededor de su país, México.
Actualmente su música se encuentra firmada en diversos sellos de renombre alrededor del mundo, entre ellos, Akbal Music, Tenampa Recordings, Go Deeva Records, Dreaming Awake, Lump Records Beatfreak Recordings, Asymmetric Recordings, Stripped Recordings, Clubsonica Records entre otros.
Ha sido apoyada por artistas como Hernan Cattaneo, Eelke Kleijn, Robbie Akbal, Gabriel I, Shai T, Lonya, Nicolas Rada, Anthony Pappa, Balcazar, Tini Tun, Vazik, por mencionar algunos.
Hoy en día es dueño de su propio sello "Wild Nature Music" firmando a artistas como, Kamilo Sanclemente, Andre Gazolla, Ricardo Farhat, Hole Box, Hot Tuneik, Makanan, Vazik, 2UP, Caballero, Jay de Lys.
Entre sus colaboraciones musicales próximas resaltan los siguientes artistas:
Balcazar, Dark Soul Project, Zeque, The Note V, Amol Reon.
Fecha y hora
Ubicación
HUCANII
Chiapas , La Punta Zicatela
Puerto Escondido, OAX 70934
Mexico
Política de reembolso
Contacta con el organizador para solicitar un reembolso.
La tarifa de Eventbrite no es reembolsable.