Mariana Gómez presents The Color of the Mexican Guitar, a program with musics from Bolio, García de León, Oliva, Gómez, y Ponce.
About this event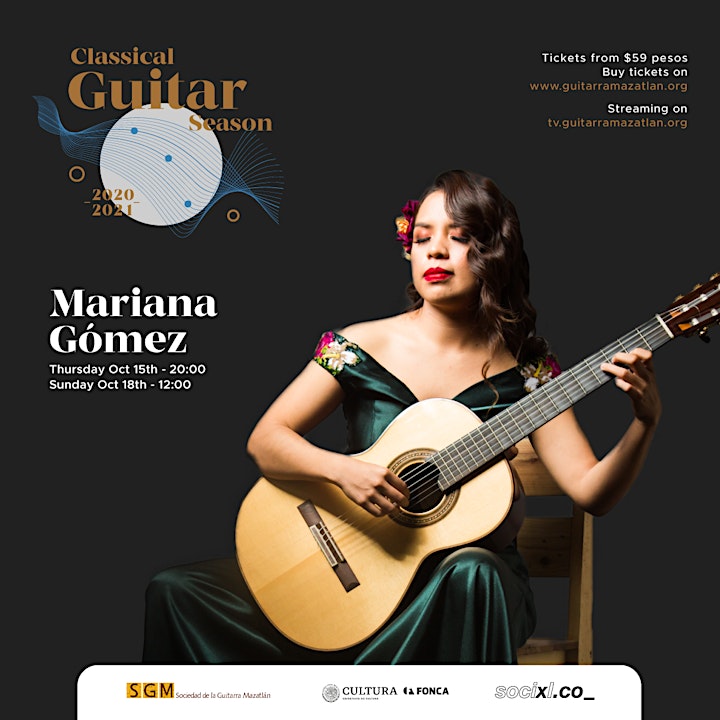 During this concert you will be able to listen to works by Consuelo Bolio, whose musical poem is a canvas in the style of Frida Kahlo or Remedios Varo that refers to the serene beauty of cool-jazz ballads; the son jarocho of Ernesto García de León; the full happiness that exudes - in the manner of Chopin - Sonata del Amor by Julio César Oliva; Jaime Gómez's pieces that evoke luminous Purépecha afternoons; and by Manuel M. Ponce - composer of works such as Estrellita - Sonata Mexicana, composed at the request of Andrés Segovia and where Mexican folk motifs can be heard to paint this sound canvas as if it were a vast and majestic landscape by José María Velasco.
When you buy a Digital Ticket, we will send you an email with the link and the access code to the live concert to watch through GuitarraMazatlan TV, the streaming service of Sociedad de la Guitarra Mazatlán, A.C. one hour before the concert. You can enjoy the concert up to 15 days after.
Also, you can accompany us live at Socixl.co (Constitución 207, Centro, Mazatlán) with a limited capacity of 50 people, mandatory use of face masks and following all safety and safe distance guidelines. When you buy a Live Ticket you get to promotions and discounts from our business partners. Check out all the benefits at www.guitarramazatlan.org/en/benefits/.
Program
Evocación - Consuelo Bolio
Preludio Op. 26 - Ernesto García de León (n. 1952)
Sonata del amor - Julio César Oliva (n. 1947)
I. Arcoiris
II. Romance
III. Atardecer de amor
IV. Plenitud
intermedio
En un país lejano - Jaime Gómez Martínez
Dos historias
Sonata mexicana - Manuel M. Ponce (1882-1948)
I. Allegro moderato
II. Adantino affettuoso
III. Allegro in tempo di serenata
IV. Allegretto un poco vivace
Mariana Gómez - guitar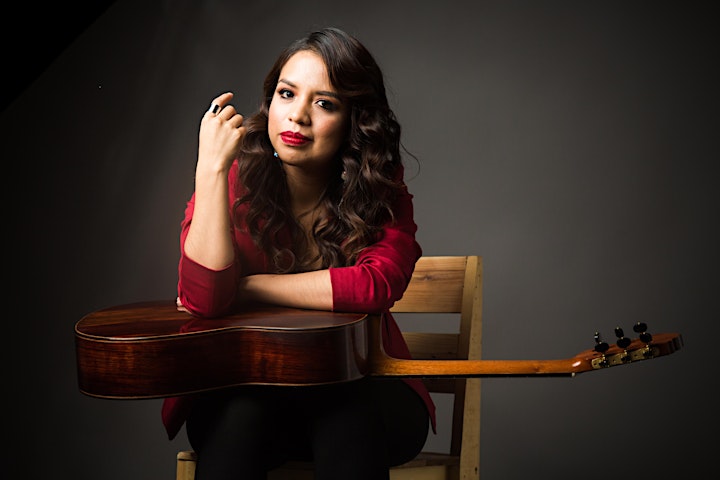 ¿Who is Mariana Gómez?
She began her music studies at the age of 7 with his father Jaime Gómez. Later with outstanding guitarists as teachers, with whom she extraordinarily developed her guitar skills. The guitar has taken her to different stages in the USA, Bolivia, Brazil, Mexico, Peru, the Czech Republic, Italy, Canada and Spain. Multi-awarded in international guitar competitions, artistic merits and cultural projects, she is also the artistic director of one of the most important Festivals in Latin America such as the Paracho Guitar Festival and Founder of the Ibero-American Guitar Organization. She finished her degree in Music with excellence from the U.M.S.N.H. in Mexico and currently is receiving a grant from the Liceu Conservatory Foundation, where she is studying a Master Degree with the prestigious musician Guillem Pérez-Quer in Barcelona, ​​Spain. Today she is considered one of the young promises of classical guitar that highlights female participation in the world of music.
To read Safe Distance and Security Protocol visit www.guitarramazatlan.org/en/safety/, for Terms & Conditions visit www.guitarramazatlan.org/en/terms/, and for Privacy Policy visit www.guitarramazatlan.org/en/privacy/.