Professional Development & Coworking
About this event
WEEKLY 1+ 3: Professional Development + Coworking Time
ENG: Join us for the 1st interactive hour of professional development/networking IN ENGLISH + the following 3 hours of independent productivity/coworking time.
ESP: Únete a nosotros en la 1era hora interactiva de desarrollo profesional y networking EN INGLÉS + en las siguientes 3 horas de tiempo independiente de productividad y coworking.
CALENDAR/CALENDARIO, Central/CDMX time zone (the dates not listed are available for programming based on your needs and interests)
March 18, 10-11am: Thesis defense practice & feedback session with Mar
March 25, 10-11am: Mar's thesis defense for a BA in linguistics, ENAH
April 1, 10-11am: Como publicar tu investigación de licenciatura con el Dr. Memo
April 8, 10-11am: El Pozo de Vida's research into child begging in Mexico City
April 13, 6:30-7:30pm: Herramientas para buscar trabajo (inclusive en casos difíciles)
April 22, 10-11am: Build your Mailchimp website (by popular demand!)
April 29, 10-11am: Guest career coach for graduate students beyond academia
May 6, 10-11am: Mexican Sign Language thesis feedback session with Clau Ruiz, BA
May 13, 10-11am: PhD thesis feedback session with Esthela, MA
May 20, 10-11am: MA biology article feedback sessison with Pau, Odontologist
June 3, 10-11am: How Guillermo won several research grants, PhD student
June 10, 10-11am: Grant search for MA studies (case study: International Affairs at IU)
June 17, 10-11am: Thesis or article? Pros, cons, and other considerations for research publication
June 24, 9*-10*am: Q&A about the intersemestral course through ENAH, July 4-22
ENG: Starting JULY, sessions begin 1 hour earlier / ESP: A partir de JULIO, las sesiones empiezan 1 hora antes
July 1, 9-10am + 3 hrs coworking: Plan de carrera a través de la investigación de las trayectorias educativas y laborales (Career planning through career trajectories research)
July 8-22, 9-3pm: Summer intensive INTERSEMESTRAL course through ENAH, open to ALL for free auditing (more: https://www.facebook.com/events/500994861716731)
July 8, 9-10am: Professional and academic networks (overview of LinkedIn, Academia, ResearchGate, ORCID, Google Scholar)
July 15, 9-10am: The brain science of learning and teaching
July 22, 9-10am: Accessibility of digital products (like PPTs) for greater inclusivity
End of the summer intensive collaborative course through ENAH and a new workshop strategy: Vote for your favorite workshop themes! SURVEY: https://forms.gle/LYjJKqRtfCEoVUgE7
July 29, 9-10am: Readability as part of accessible and inclusive communication
August 5, 9-10am: The Agile philosophy of the rapid tech world and its lessons for the academia
August 12:
August 19:
August 26: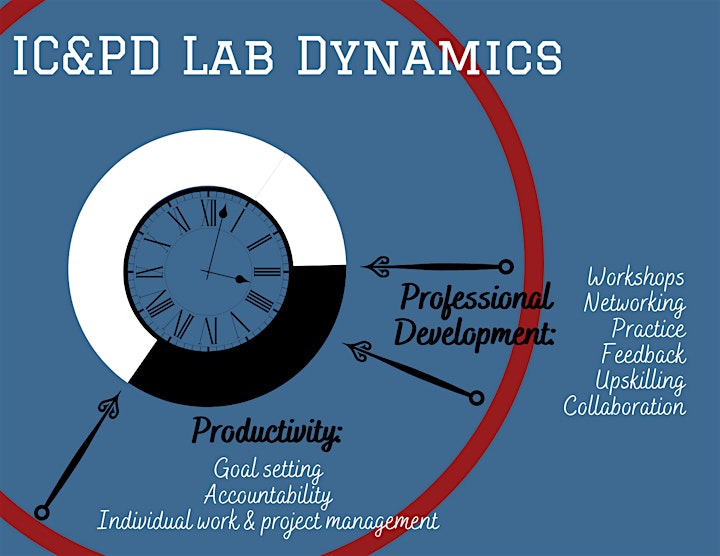 Our work sessions & community help academics and professionals reduce inefficiencies & isolation in completing their large writing and research projects by enabling productivity and professional development in a supportive international and interdisciplinary community.