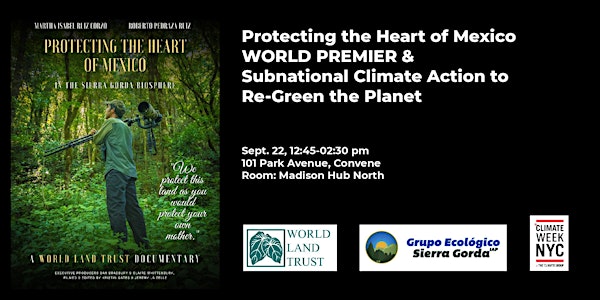 Protecting the Heart of Mexico WORLD PREMIERE & Subnational Climate Action
Event Information
Location
Convene
101 Park Avenue
Madison Hub North
New York, NY 10178
Description
How can we regenerate forests locally and globally? Visionary activists leading conservation pathways from the field. Documentary premiere.

Speakers:
-Dan Bradbury, World Land Trust, Director of Communications and Development
-"Pati" Martha Ruiz Corzo, Grupo Ecológico Sierra Gorda, Director

In celebration of the World Land Trust's 30th anniversary, join us for the world premiere of the short movie "Protecting the Heart of Mexico". This film is produced by World Land Trust and executed by award-winning filmmakers Kristin Gates and Jeremy Là Zelle. Showcasing a local grassroots movement, it tells the story of a mother and son fighting passionately to protect their corner of Mother Earth, taking society and governments to task in order to achieve conservation, civil participation, adaptation and climate change mitigation. Duration: 23 minutes.

Following the film, there will be a discussion on the environmental issues facing Mexico's Sierra Gorda and the conservation initiatives being implemented by World Land Trust and Grupo Ecológico Sierra Gorda (GESG). Thirty years ago, recognizing the planetary emergency, these two organizations took action. The World Land Trust leads a global conservation strategy that touches ground by establishing wildland sanctuaries. The Sierra Gorda civil conservation movement grew from the ground-up. Querétaro State put into action the first sub-national mechanism for carbon footprint reductions in Mexico by partnering with GESG, and this synergy for new financing is a driver for change, for regenerative solutions.
Biographies
Dan Bradbury, WLT
After spending many years working in Marketing teams as a Graphics and Packaging manager Dan joined the WLT team in January 2013 as Head of Digital Communications, where had the opportunity use key transferrable skills relating to brand awareness through digital and social networks to support his passion for the natural world. Dan's role has evolved and he is now the Director of Communications and Development where he steers and co-ordinates a range of activities to ensure integration with all elements of the Trust's work relating to communications and fundraising, including individual and corporate support and campaign management with an emphasis on delivering a vibrant, coherent and consistent message to increase income and awareness of World Land Trusts work.
Martha "Pati" Ruiz Corzo, GESG
36 years ago, Martha "Pati" Ruiz Corzo co-founded Grupo Ecológico Sierra Gorda IAP in 1987 with local citizens to raise awareness about the biodiversity, the threats and the grassroots movement to build a regenerative future the region. In 1997, she was appointed federal director of the Sierra Gorda Biosphere Reserve by President Zedillo, serving until 2008 when she returned to the civil society organization located in Jalpan de Serra, Querétaro. The result has been the creation of a grassroots environmental movement that has transformed natural resource management practices of the local population and re-oriented public investment from government authorities through environmental education, solid waste management, regenerative practices in soils and forests, sustainable rural tourism, community microenterprise networks, and voluntary carbon offsets for the private sector and subnational climate action. Selected Awards: 2001 Schwab Foundation; 1996 Ashoka; 2002 Rolex Associate Laureate; 2012 National Geographic Buffet Award for Conservation Leadership & Nat Geo World Legacy Award 2017; UNWTO
The Filmmakers
Kristin Gates
Kristin Gates is an expedition filmmaker, field archaeologist, inspirational speaker, and writer. She is best known for trekking solo across Alaska's Arctic on a 1,000-mile route through the Brooks Range that she mapped out herself. Since then Kristin has worked to protect the Arctic and other important areas under threat. She utilizes documentary film projects to tell stories that pertain to environmental and human rights issues.
Jeremy Là Zelle
Jeremy Là Zelle is a leading adventure and expedition photographer and filmmaker. His documentary work has led him to the Arctic, the Himalayas, remote regions of Africa and South America, and beyond. He continually travels the world producing exciting and informative documentaries for TV Networks, Nations, NGOs, Charities, and Social Enterprises who truly make a positive impact on their communities. Jeremy has written, directed, and produced for National Geographic Channel, History Channel, Animal Planet, and for incredible nations such as the Kingdom of Bhutan, Kingdom of Eswatini, Ethiopia, Peru, and many more. Above all, Jeremy dedicates his heart and talents into documenting the work of top scientists and educators across the planet who are changing the world for the better. "As a filmmaker, I strongly believe that documenting and showcasing the stories of these incredible individuals with global audiences will ultimately translate to inspired youth, a better understanding of our collective history, and ultimately the preservation of our natural environment." – Jeremy Là Zelle
Join us for this special event as a part of Nature's Hub during Climate Week NYC!
Date and time
Location
Convene
101 Park Avenue
Madison Hub North
New York, NY 10178