A 6 workshop series twice a month: Weaving our Inner Liberation using InterPlay explorations through our social beliefs and embodied wisdom.
About this event
Throughout all of our life, what we experience intentionally or unintentionally shapes our brain and behaviour. As we explore and make sense of our experiences, we get closer to our inner truth.
We can shape our relationships and our wellbeing through changing our brain by playing together using the rich resource of InterPlay and sharing our many diverse stories and experiences.
The rhythm of divergence and convergence across social issues in our world that impact us individually and collectively invites us to strengthen our roots and awakening of our senses, deepening listening, and connecting to wellbeing in all dimensions.
Committed to bringing Race and Equity awareness, Masankho Banda and Livier Ayon embark on an experiment offering a space for self-expression and listening with intent as a form of call to restoration and compassion. With a combination of styles to stimulate self-inquiry, story sharing, and body interaction, they invite depth within play and body wisdom as a path for self-awareness and shared resilience. Find diversity, commonality, companionship... to make sense of our relationships with ourselves and with the world around us.
These exploration series involve 5 workshops over a period of 2.5 months:
Noticing
First, we notice and explore how our brain reacts to influence around us. What is ingrained in our neurobiology human making that influences what we ingrain as familiar, as normal? How did our upbringing give us access and contact with certain situations and groups, and not with others?
Wondering
Next, we become curious and wonder experiences that shaped how we see the world now. How our indispensable needs for belonging defy our critical need for being who we are? What configurations and socializations are familiar to you? How do you identify yourself now?
Pause/Reflect
Then, we pause and immerse in deeper reflection on the shaping of our experiences. How do we gradually come to make decisions and take action? How do we build our beliefs? What is the piece within us that we can nourish in ourselves with more self-understanding and extend to the relationships we have?
Collective Wisdom I
What do we know from dancing with our struggles and sharing mixed realities? As we come further from our inner exploration into sharing more of who we are in the world, how do we show up, what systems and patterns in our society (and in the larger world) are we bringing our power and energy towards? How does power and normalized culture is living in us and what do we want to do about it?
Collective Wisdom II
Our inner liberation builds on increased ability to move in unison as a large body, resilient, willing to try again and again, trusting, harvesting from our collective body wisdom. From there, how do we want to live? What do we want to keep? What ways of relationship can we nourish? What are we ready for?
Integrating and Closing
Our last session is dedicated to bring it all together, explore any areas we want to deepen into, and create a transition into how to use what we learned into our personal life.
We will explore:
Socialization
Attachment
Identity
Social beliefs
Social norms
Patriarchy
Self-inquiry
Self-compassion
Let's prepare to build a vision of the world we know in our hearts, yes still strange, imperfect, and wondrous, together…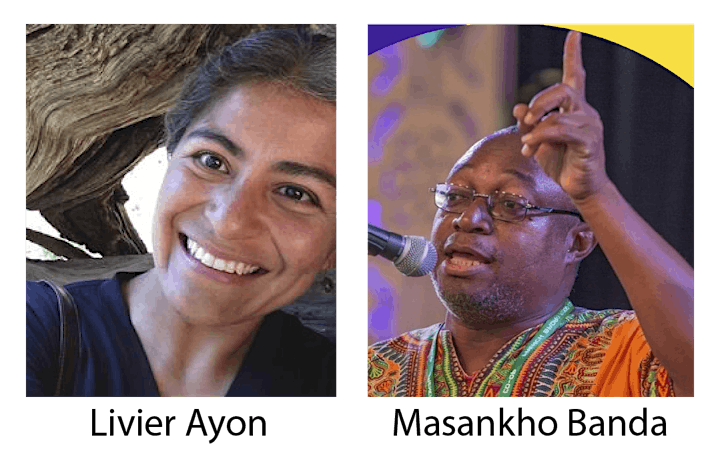 Livier Ayon
Livier, uses her background as a social psychologist, to create and facilitate leadership programs in community development focused on youth violence prevention in Jalisco, Mexico. She uses her experience with the expressive arts, yoga instruction, and movement facilitation to enhance her leadership. She also uses principles found in Restorative Circles, Art of Hosting, and Trauma-informed Approach. Livier has contributed with The Partners for Youth Empowerment and collaborates with The Nonviolent Global Liberation Movement, and is also an associate with Community Resolve, a UK-based organization for conflict engagement. In 2015, Livier was invited to join the Arts for Social Change InterPlay immersion program and is an InterPlay Leader.
Masankho Banda
Masankho is a multi - disciplinary Performing Artist, Certified InterPlay Leader, Educator and PeaceBuilder. He brings many unique perspectives to his work around the world. He learned the fine arts of storytelling and dance from his Malawian culture spending many long days and nights listening to stories and dancing to music that captivated his mind, shaped his being, nourished his soul and strengthened his spirit. Using performing arts Masankho motivates and inspires people of all ages to work together to bring about peace, social justice and cultural understanding. In 1997, he started UCanDanc—African Healing Arts to bring his passion for dance and storytelling to communities around the world. Masankho has been a Certified InterPlay Leader since 1999.
Masankho can also be reached at these phone numbers:
+265 99 255 5338 or +265 88 113 8655
(available on Whatsapp / FaceTime)
Also: Facebook / Twitter: storytelling4u and Skype : kamsisi
Do you want to know more about InterPlay?
InterPlay is an active and creative approach to unlocking the wisdom of your body.
But it's more than that. It's the feeling of ease in the body. It's the heart-to-heart connection. It's the spark of creative spontaneity. It's all the feelings honored and held: joy, sorrow, giddiness, surprise, trust as well as the release of anger, fear, anxiety. Because only your body knows what your body needs.
To learn more, visit the InterPlay website, and watch this video :-)
Read this anouncement from InterPlay Online Ongoing Classes & Groups.