Event Information
Refund Policy
Contact the organizer to request a refund.
Eventbrite's fee is nonrefundable.
About this Event
Creemos que en esta nueva normalidad es indispensable mejorar la habilidad de hablar en público a través de medios digitales. Esto se puede lograr por medio de capacitación breve, precisa e intensiva. Para este fin, evolucionamos para ofrecer nuestro Taller de Public Speaking enfocado en presentaciones a distancia vía Internet.
El taller está pensado para profesionales de diferentes áreas cuya actividad les demanda comunicarse a través de videoconferencias con clientes, prospectos y compañeros de trabajo; así como intervenir con discursos o presentaciones ante audiencias mayores, como reuniones corporativas o conferencias.
Durante la sesión se abordan tres áreas clave al momento de tomar la palabra en una videoconferencia: la retórica del discurso, la ejecución técnica y la ejecución personal. El temario del taller es el siguiente:
Retórica y cánones del discurso. Mapa de ruta para la ejecución de un discurso y un ejercicio de diagnóstico inicial por cada participante.
Estructura. Plantilla narrativa para el desarrollo ordenado de una presentación. Incluye ejercicio de identificación de elementos y patrón para crear un discurso.
Ejecución técnica. Una serie de prácticas y consejos a tomar en cuenta cuando se interactúa a través de videoconferencias. Se realiza un ejercicio para incorporar las prácticas y satisfacer diferentes requisitos.
Ejecución personal. Cómo gestionar el miedo a hablar en público. Durante la sesión se aborda el origen de la glosofobia y se llevan a cabo prácticas y ejercicios para superarla.
Presentación de discurso. Una presentación final donde los todos los participantes exponen un discurso y reciben retroalimentación, impresiones y consejos del instructor y todos los participantes del taller.
El taller consta de cinco sesiones de aproximadamente 90 minutos en días consecutivos de lunes a viernes y se imparte por medio de Zoom. Cada grupo tiene cupo limitado a cinco participantes. La facilitación corre a cargo de Xósem Amero, profesional de StoryTelling y director de StoryTypers.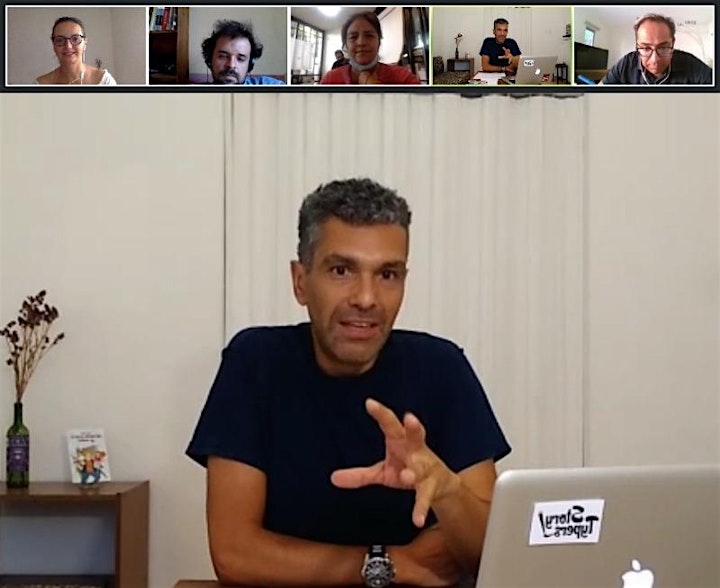 Date and Time
Location
Refund Policy
Contact the organizer to request a refund.
Eventbrite's fee is nonrefundable.